2021 online matchmaking meeting for Foshan--Pakistan Special Session opens on September 14th
Hosted by CCCMC, the 2021 online matchmaking meeting for Foshan Foreign Trade Transformation and Upgrade Base--Pakistan Special Session opened on September 14, 2021.
Foshan Bureau of Commerce Deputy Director Huang Tie, CCCMC Vice Chairman Liu Danyang and Pakistan Building Materials Expo Chairman Dr. Khursheed Nizam attended the online meeting and delivered speeches. Thirty-one representative foreign trade enterprises from the ceramic sanitary ware industry in Foshan participate in this meeting. The main exhibits include ceramic tiles, marble, rock slabs, antique tiles, mosaics and some sanitary products.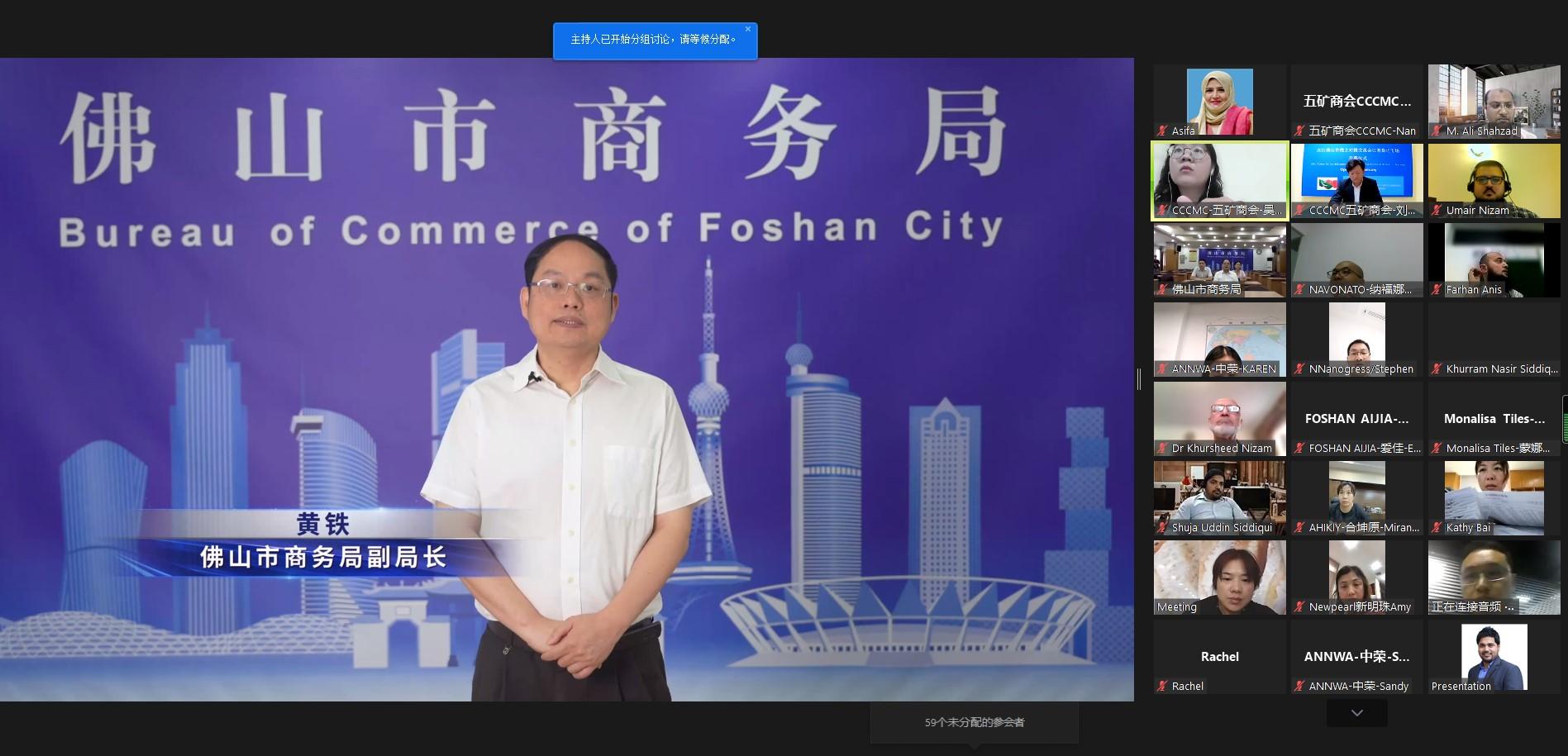 Deputy Director Huang Tie said, Pakistan and China are good strategic partners of cooperation. In recent years, bilateral relations have been constantly upgraded, laying a solid foundation for bilateral sub-national exchanges and economic and trade cooperation. In the first half of this year, the import and export quota between Foshan and Pakistan reached 1.98 billion yuan, with a year-on-year increase of 78%. The economic and trade relations between Foshan and Pakistan show a strong momentum of development. In order to help Foshan ceramic enterprises to establish cooperative relations with more Pakistani enterprises and achieve mutual benefit and win-win situation, we hold this online matchmaking meeting.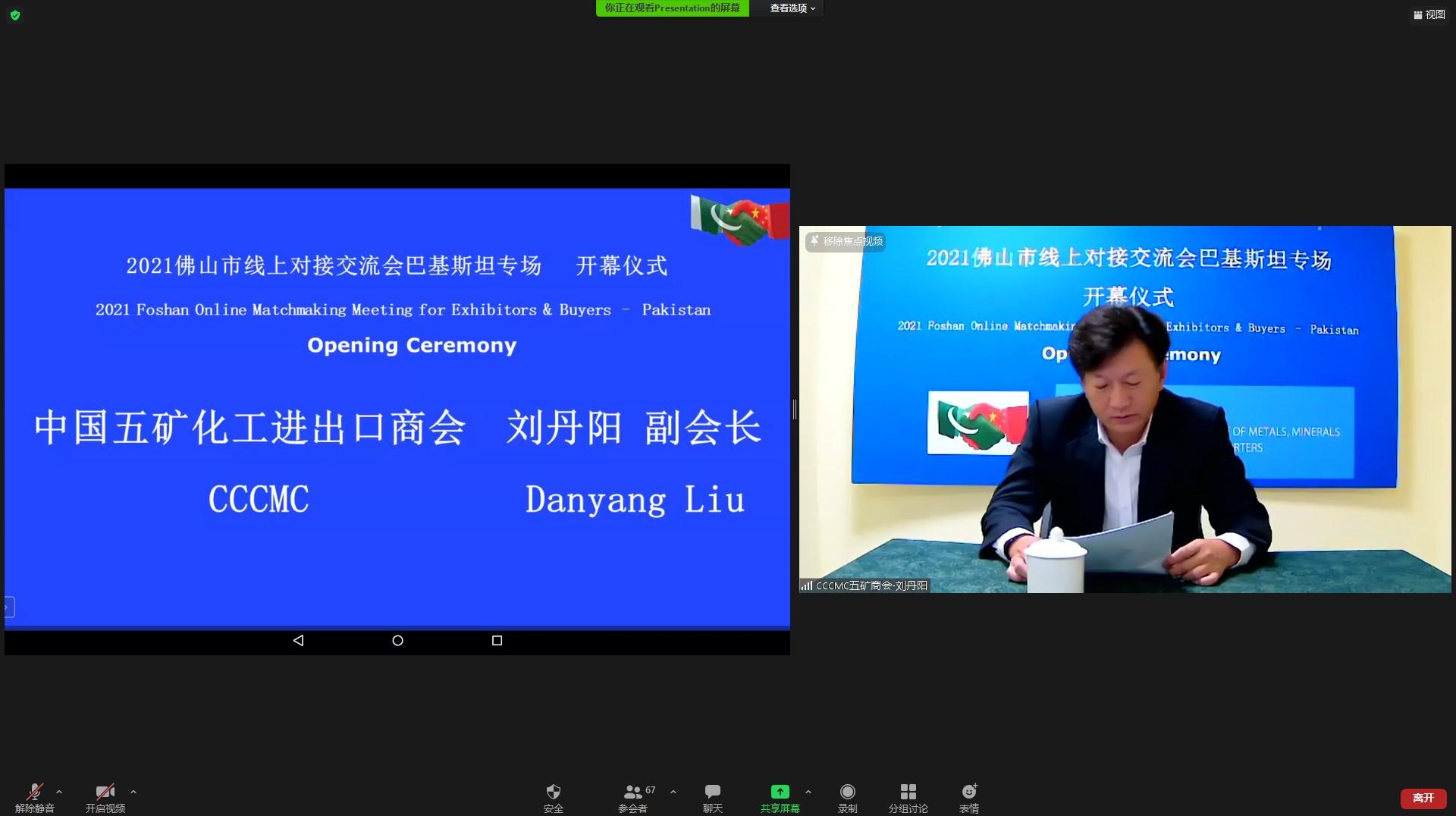 Vice Chairman Liu Danyang pointed out, Foshan is an important export base for Chinese ceramics, sanitaryware and other household products. Recent years, Foshan has made new strides in promoting opening-up to the outside world, such as accelerate the construction of new heights of opening up, and focus on enhancing the export of ceramics, metal profiles, hardware and other advantageous industries. All the time, CCCMC attaches great importance to supporting the development of Foshan's foreign trade. We hope that, through the exhibition promotion platform, digital service platform and extensive international contact system of CCCMC, we can speed up the promotion of Foshan foreign trade enterprises' efforts to explore international markets, expand export channels, and assist Foshan export-oriented economy with a highly quality development.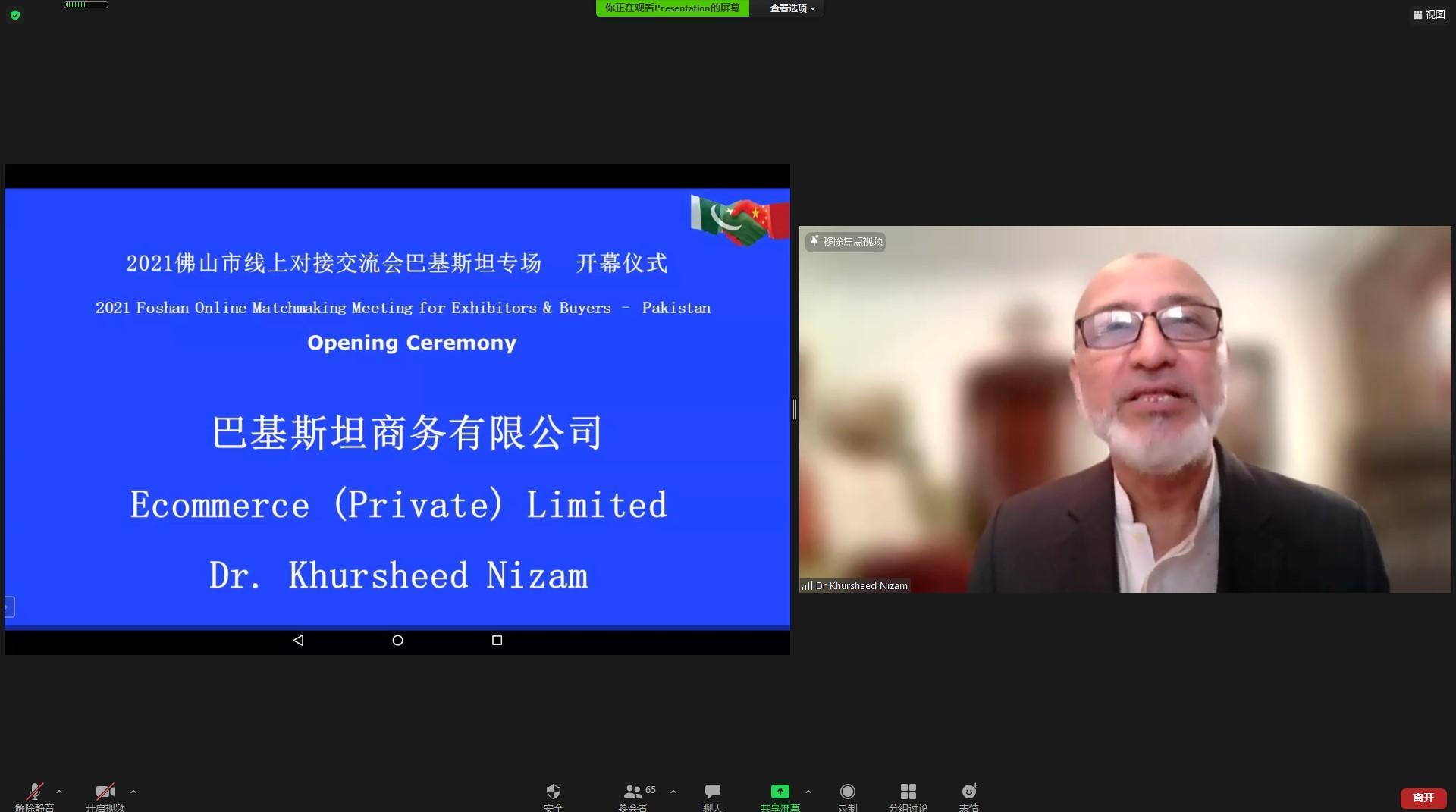 Dr. Khursheed Nizam, chairman of the Pakistan Building Materials Expo shared his analysis of the Pakistan market, and said at the meeting that the Pakistan government will build a new city in Karachi called Bond Island, which will have more than US $50 billion invested in various construction, especially housing. Today, the construction industry is booming thanks to government incentives to private builders. Many companies are looking for products made in China. The Pakistan government urges importers to import building materials from China to meet the demand of Pakistan's housing industry. Pakistan welcomes more building materials products from Chinese enterprises.
CCCMC, as the organizer of this matchmaking meeting, together with the organizers of Pakistan Building Materials Expo and the Pakistani industry associations, combined with the market demand of Pakistan and the products characteristics of enterprises participating in Foshan, carefully matched the Pakistan buyers for the Chinese enterprises. The purpose of this matchmaking meeting is to continue to implement the Chinese government's "Belt and Road" Initiative and to implement the spirit of stabilizing foreign trade. It is hoped that through the trade platform of this special period, foreign trade enterprises will have in-depth exchanges, dig deep business opportunities, and reach more cooperation.