CCCMC Chairman Jiang Hui attends the 7th Conference of Chinese and African Entrepreneurs and delivers a speech
On November 29, 2021, the 7th Conference of Chinese and African Entrepreneurs, co-hosted by the Ministry of Commerce of China, the China Council for the Promotion of International Trade(CCPIT), the Ministry of Foreign Affairs and the Ministry of Economy, Planning and Cooperation of Senegal, was held in Beijing and Dakar simultaneously. Ren Hongbin, Vice Minister of Commerce of China, Gao Yan, Chairperson of CCPIT, and Amadou HOTT, Minister of the Ministry of Economy, Planning and Cooperation of Senegal, attended the opening ceremony of the conference. Representatives from the industrial and commercial circles of Chinese and African countries gave speeches and participated in the discussions. Jiang Hui, Chairman of CCCMC and Secretary-general of the Alliance of Chinese Business in Africa for Social Responsibilities(ACBASR), attended the conference and delivered a speech.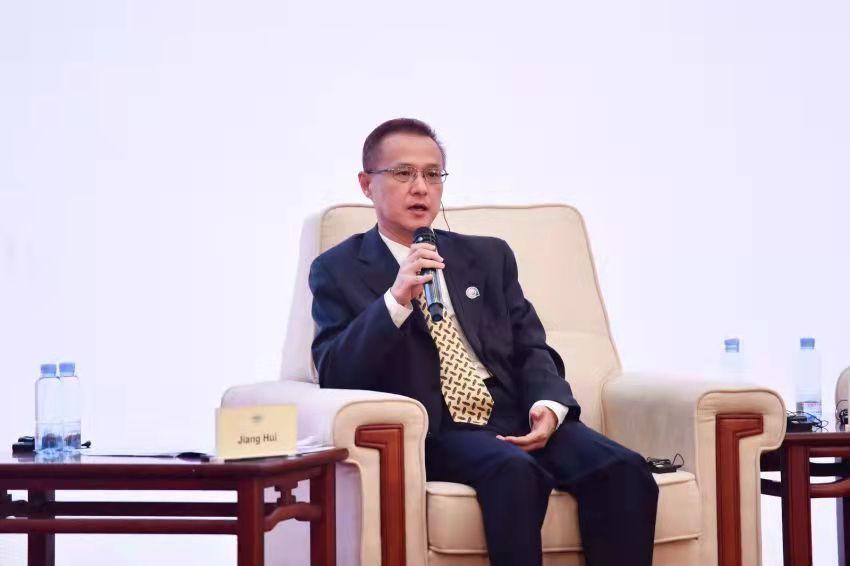 Jiang Hui said that in September 2018, President Xi Jinping proposed at the Beijing Summit of the Forum on China-Africa Cooperation: "support the establishment of the Alliance of Chinese Business in Africa for Social Responsibilities." A number of Chinese industry organizations, financial institutions, Chinese-invested and cooperative enterprises in Africa, as well as Chinese business associations and enterprises in 49 African countries have responded positively to jointly launch the alliance. Over the past three years, the friendly cooperation between China and Africa has been continuously deepening and solidifying, and Chinese enterprises have accelerated the process of industrialization in Africa with real industrial cooperation and made great contributions to promoting economic development in Africa and improving the livelihood of the local people. On September 26th, 2021, the founding ceremony of ACBASR was solemnly held in Changsha, Hunan Province. More than 1,700 Chinese enterprises in Africa had joined the alliance by then. ACBASR will create four major platforms for communication and exchanges, action promotion, capacity enhancement, dissemination and promotion of Chinese businesses in Africa, and help Chinese enterprises moving towards Africa to actively participate in and contribute to the realization of independent and sustainable development in African countries.

At present, ACBASR has collected a range of demonstrated cases of social responsibility of Chinese enterprises in Africa, covering such areas as fighting the epidemic, infrastructure construction, personnel training, environmental protection, improving people's livelihood, and promoting cultural development. Chinese Business in Africa: Cases on Social Responsibility Practices has been published online. In the next step, in response to President Xi Jinping's call, ACBASR will launch a "100 enterprises and 1,000 villages" campaign to assist enterprises in carrying out public welfare projects in the fields of health care, education and skills training, and community livelihood, so as to contribute to social development and improvement of people's livelihood in Africa, and to build harmonious and friendly relations between enterprises and communities.