2021 Tangshan Hardware & Building Materials Online Fair successfully held
From July 22 to 23, the 2021 Tangshan Hardware & Building Materials Online Fair, hosted by Tangshan Bureau of Commerce and organized by CCCMC, was successfully held at Tangshan Pullman Hotel. The event was conducted online and offline. Liu Ying, Deputy Director-general of Tangshan Bureau of Commerce, Guo Hongjun, Deputy Secretary General of CCCMC, and Dr. Thu Giang, Chairman of the Preparatory Committee of China-Vietnam Chamber of Commerce, attended the online fair and delivered speeches. Representatives of 10 Tangshan sanitary ceramics enterprises and 6 Tangshan steel shovel enterprises, more than 80 buyers from Indonesia, Singapore, Malaysia, the Philippines, Vietnam and other RCEP countries participated.

Liu Ying pointed out that Tangshan is a heroic city that General Secretary Xi Jinping cares deeply and pins high hopes on. Tangshan is becoming a regional central city in the Beijing-Tianjin-Hebei world-class urban agglomeration and a golden place favored by investors at home and abroad. Tangshan's hardware and building materials have fully proved their own quality with the passage of time and the baptism of market. Tangshan has always had good cooperation with many countries, and hopes to deepen understanding, enhance friendship, seek development and create the future with purchasers from all over the world through this activity.

Guo Hongjun said that CCCMC has been committed to building a sound service system for its members, including exhibition promotion services and digital services. It is hoped that this online fair could shorten the distance between domestic and foreign businessmen and promote wider and deeper economic and trade cooperation.

Dr. Thu Giang introduced in detail the geography, humanities, economic development and Sino-Vietnamese trade in Vietnam, and pointed out that the decoration and building materials industry in Vietnam has broad market space. It is hoped that the China-Vietnam Chamber of Commerce will build a platform for bilateral enterprises in communication, project and product introduction.

Under the joint witness of Liu Ying, Guo Hongjun and three enterprise representatives, the 2021 Tangshan Hardware and Building Materials Online Fair was launched.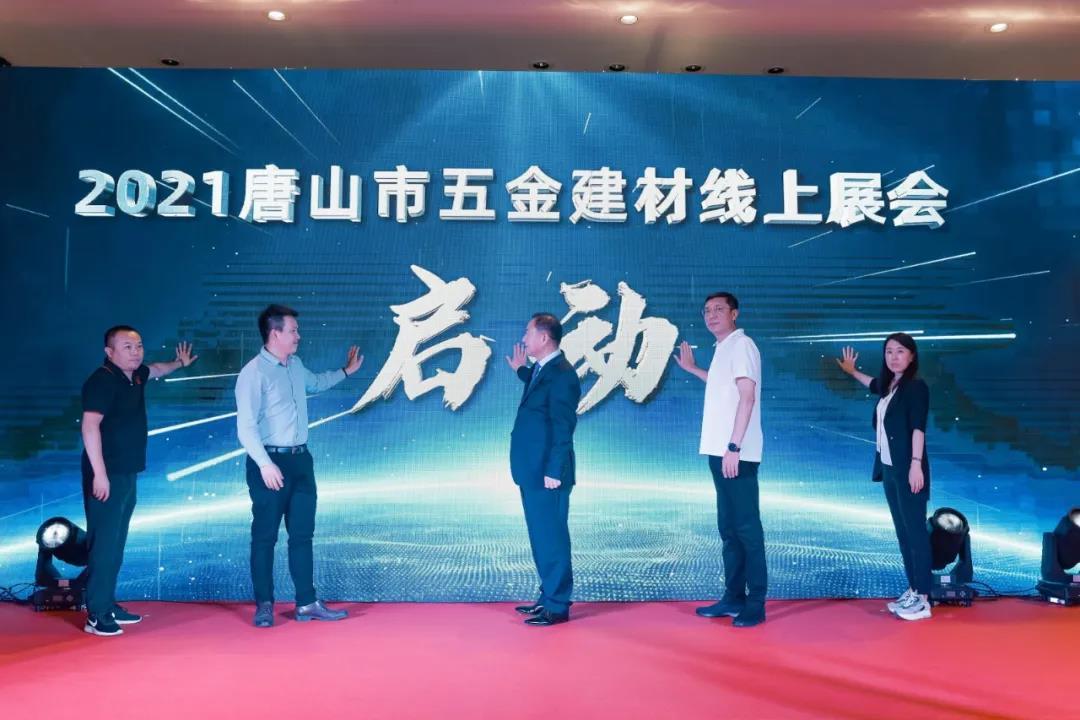 Subsequently, 16 Tangshan enterprises made presentations on their enterprises and products respectively. Among them, Huida, Monopy, Imex, Sunrise, Huali, TSTC and other sanitary ceramics enterprises, Shushi Hardware Tools and other steel shovel enterprises have aroused a strong response from customers at home and abroad. In addition, the international website team of Link Ceramics platform established by CCCMC and Chenglian E-business also introduced the platform to guests at the conference and overseas guests linked remotely. Wang Bingwen, Deputy General Manager of Zhejiang Meorient Commerce & Exhibition Inc., exchanged views with the attendees on digital exhibition and digital service.

On July 23, CCCMC arranged several rounds of "one-to-one" negotiations for each key Tangshan enterprises, such as Huida, Monopy and Imex. Through nearly 30 rounds of negotiations, CCCMC effectively facilitated the inquiry and transaction between the supplier and buyer. Some foreign businessmen have asked Chinese enterprises about product sample books and quotations. This event has been praised and recognized by Tangshan Bureau of Commerce and Tangshan exhibitors.